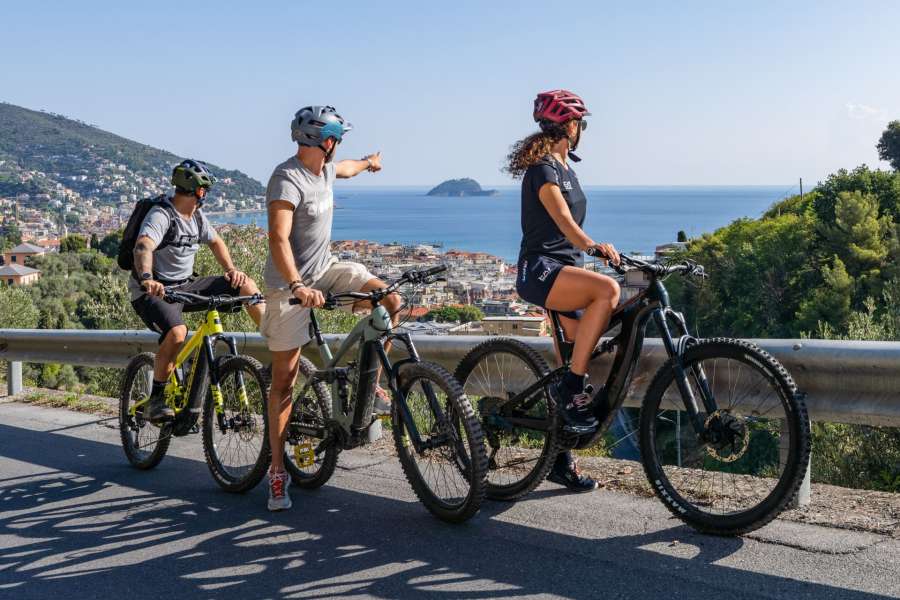 ALASSIO IN E-BIKE
from Sunday 16 October

to Saturday 31 December
Did you know that in the hills of Alassio you can enjoy spectacular views and, in the meantime, stay in shape?
In the beautiful Ligurian corner with its sunny days, the Autumn and Winter periods are also perfect for a E- bike adventure between itineraries suitable for all levels. Once at the hotel, you will immediately fall into the hands of our expert therapists for regenerating moments in the SPA.
Best price

Up to 10% discount for your next stay of 2 nights

E-bike tour

E-bike rental special price

Welcome drink

Sparkling wine welcome drink or your favorite mocktail

Afternoon Tea

Taste selected blends of tea in combination with local sweets


Wellness treatments and Spa Night Experience

Thalassotherapy experience, wellness treatments with seaweed and sea salts and Aufguss rituals in Bio-sauna and sound bath in the pool included


Healthy Meals

A healthy menu created ad hoc by our Executive Chef



THURDAY
Afternoon: Aroma Oil Massage 50'
Improve elasticity and reduce muscle tension. A 50- minute massage that combines the effect of a classic massage with the benefits of the oils.
Afternoon: Afternoon Tea
An opportunity to taste a selection of tea blends in combination with local sweets, the chocolate menu and finger sandwiches.
FRIDAY


Morning: E-bike tour in Alassio

An e-bike tour to discover the beautiful landscapes along the typical Ligurian roads surrounded by olive trees, colorful houses and Mediterranean herbs.
The e-bike is one of the most comfortable ways to visit the historical, natural and artistic heritage of Alassio. E-bike's equipment is included and the tour guide is upon request.
Evening: Aufguss's benefit introduction and Spa Night Experience
Widely held as one of the best wellness sessions ever, the Aufguss ritual will be carried out in the sauna. Aufguss' benefits at our Spa Night Experience can be experienced in either our Bio-sauna with aromatic herbs or the Finnish sauna, as the effects would be the same. A "Grand" sensation that will drive you until the end. Enjoy also an healthy aperitif on the Spa Terrace accompanied by sparkling wine. Afterwards, you will live a unique "sound bath experience" at the Thalasso pool (with Tibetan bells/ Celtic harp/ gong or hang).
SATURDAY


Morning: Talassotherapy treatments
Starting the day with one of our best wellness treatments.
50 minutes Total Boby Scrub
Exfoliation based on seaweed and salt.
50 minutes Body Wrap
Flakes with a calcium-rich marine mud wrap and magnesium.
Afternoon: Personal trainer upon request and sportive/decontracting massage 50'
Decontracting massage in order to relax muscles and stimulate the microcirculation
Dinner: A special detox menu
A healthy dinner with a detox menu designed in order to purify body and to improve digestion and weight loss. Our detox dinner is accompanied with fruit and vegetable juice.