Booking
Create your Tailor-made holiday with our Guest Experience Manager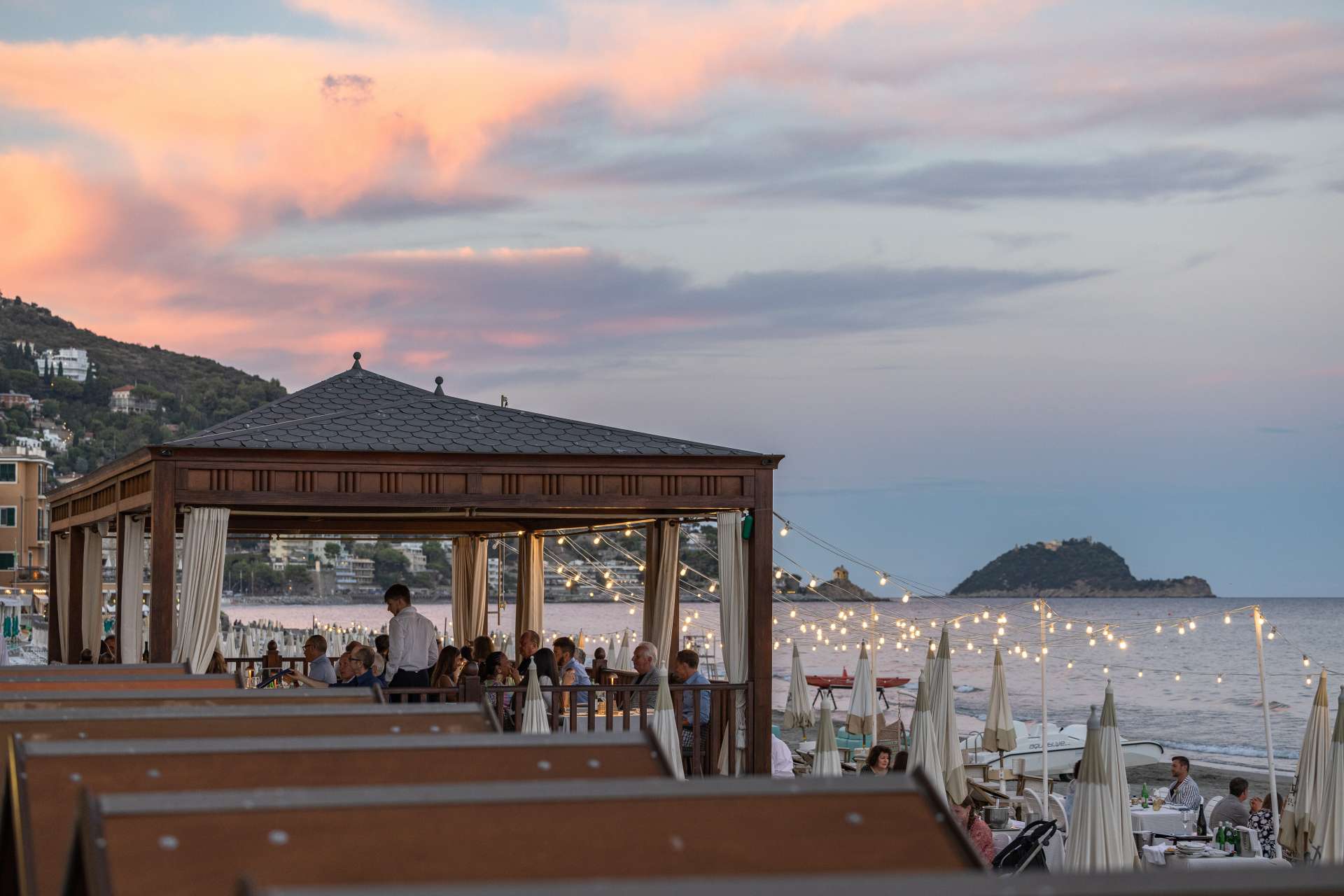 Michelin-starred dining events and Pizza Masters.
Grand Hotel Alassio Beach & SPA Resort is ready to welcome its guests again to its titillating food&wine events.
Saturday 24 June 2023
During the series of evenings called "Sotto un cielo di stelle" - i.e. under a starred sky - our Executive Chef Roberto Balgisi will perform culinary duets with some of the most famous Italian chefs. His creative and ever evolving culinary philosophy, seeking the perfect balance of fine and simple, taste boost and ingredients freshness, will mix with the philosophy of other top chefs to give life to unique 4-hands starred menus. This means an unmissable opportunity to taste the dishes signed by some of the most important masters of contemporary Italian cooking and to enjoy both the pleasure of good food and the wonderful view from Alassio gulf. Among the names of those who conquered the audience with dishes literally- and metaphorically - full of stars: Matteo Sivero, Enrico Derflingher, Andrea Berton, Marco Cahssai, Eugenio Boer, Domenico Candela, Alfio Ghezzi.
Another starring ingredient will be the authentic pizza, interpreted by Stefano Miozzo, Maestro and World Champion of Classic Pizza and Pizza in Pala, featured in the World Pizza Championship Hall of Fame and owner of Zio Mò pizza restaurant. This Summer, the beloved neapolitan specialty will take the center of the scene in many gastronomic events here at Grand Hotel Alassio, hosting guests from all over Italy. One on all: "La pizza e le bollicine" - Pizza and bubbles - with Stefano Miozzo's pizza in an unusual and noble and sparkling pairing with Champagne Pommery. Classic and contemporary pizzas that never forget their origins. Light, 48 hours-rising dough formulas, and world class quality topping. An exclusive parterre for this season, too, starting with Chef Michele Antonelli Italian finalist at S. Pellegrino Young Chef Academy Competition, Executive Chef Giuseppe Daniele, The Manzoni Milano, Chef Marco Apicella also Italian finalist at S. Pellegrino Young Chef Academy Competition, Chef Matteo Monfrinotti from La Darbia Restaurant, Chef Andrea Mantovanelli.
Pizza lovers will enjoy the exclusive participation of some top Masters of Pizza: Zio Mò's Stefano Miozzo, Il Pachino from Viareggio, Pizza in Teglia's Daniele Campana and Marco Manzi, enfant prodige of Neapolitan Pizza in Florence. Also in 2023 the collaboration between Sanpellegrino e Champagne Pommery continues. Thanks to Bar Manager Stefano, new seasonal drinks and signature cocktails will appear in the drink list of Piano Mare Lounge Bar.
For gelato lovers, the colorful neon sign of Grand Gelato, the gelato boutique created by Massimiliano Scotti, Best European Gelato maker, will be a delicious daily stop. True Italian artisan gelato, hand made using fresh and local ingredients, this year will directly reach the seashore, thanks to a new corner at hotel's Grand Beach Club. So you'll be able to taste all the new flavours just under your beach umbrella.
And for an unforgettable escape, from the hotel's private beach you'll have the possibility to rent rubber boats to tour Gallinara island while enjoying a tasty Beach Nic aperitivo directly on the sea.