Booking
Create your Tailor-made holiday with our Guest Experience Manager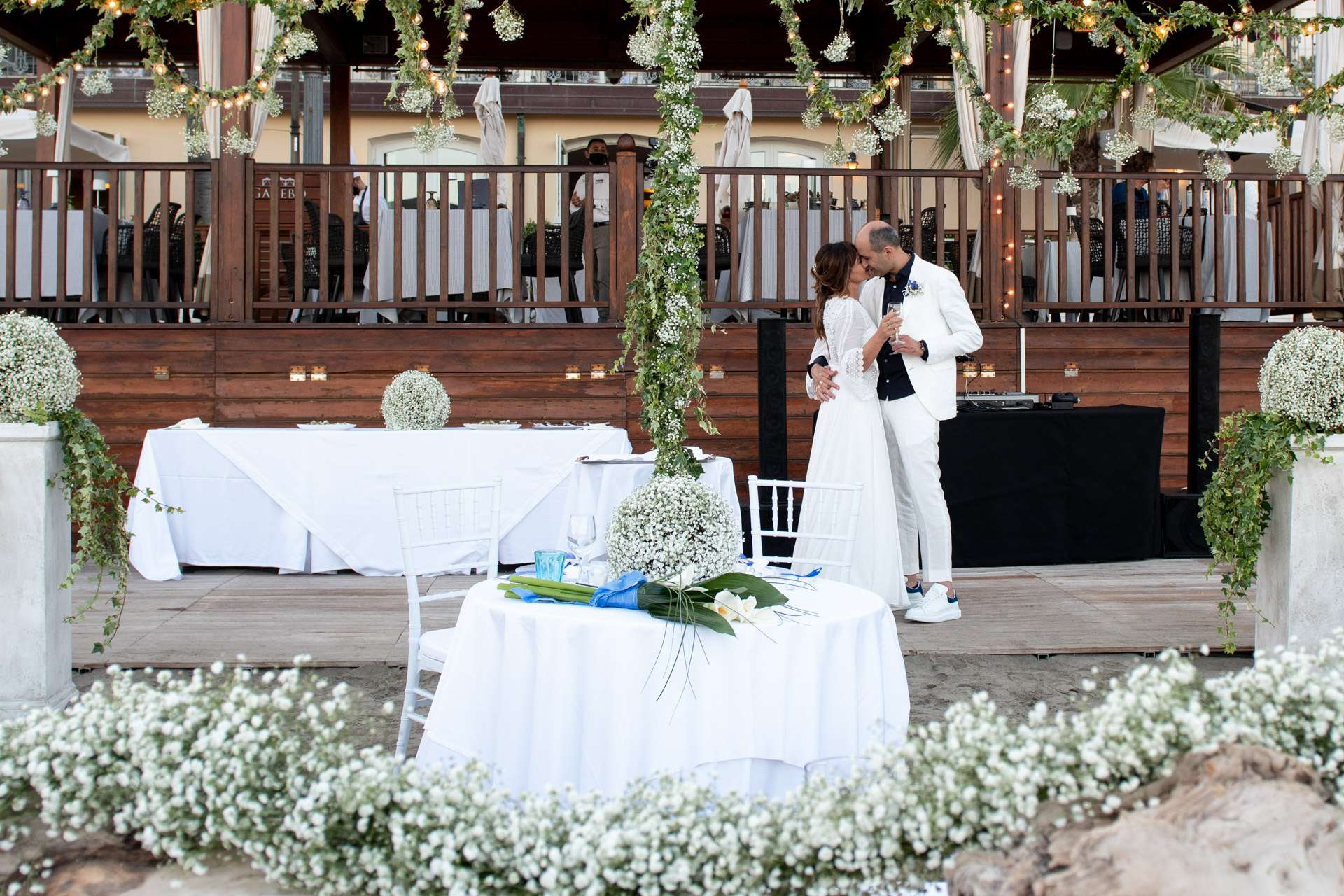 The fairytale wedding of Simona & Federico
Marring in a marine location is something magical and unique
Saturday 14 May 2022
There are several spouses-to-be that dream of saying Yes during a romantic wedding celebrated on the private beach of the Grand Hotel Alassio, overlooking the sea and the Gallinara Island.
During the last few days, I had the pleasure to meet the spouses Papurello, who decided to pick Alassio and the Grand Hotel Alassio Beach & Spa Resort to fulfil their dream.
To the question: what does the city of Alassio mean for you?
The two spouses had no hesitation to answer that for them the city of lovers is a perfect second home, rediscovered after the lockdown.
The two started to date in 2009 and they became official in 2010. They both have kids (Simona has two kids of 25 and 19 years while Federico has one 18 years old son), so they share a beautiful blended family.
They arrived together for the first time in Alassio in 2020; they both privileged the city for its proximity to Turin and therefore easily reachable during weekends and holidays.
While being on one of their summer holidays in the Riviera delle Palme, in mid-August 2020 and after having celebrated a Ferragosto dinner and evening on the beach, Federico declares his love for Simona by making a wedding statement on the beautiful terrace of the wellness suite of the Grand Hotel.
In 2021, they decided to restore their house and while being in Forte dei Marmi (more precisely in Pietra Santa) to pick the marbles, they finally made the official wedding request on the 9th of July. They expressed their wish of getting married in Alassio from the very beginning.
The Grand Hotel Alassio's General Manager, Mr. Gianluca Borgna friend of the couple, was enthusiastic about the good news and pleased to welcome the future spouses for their important celebration.
The ceremonies were held on July 9th, 2021 at the Municipality of Alassio and later on the hotel's private beach with a symbolic rite under a flowered arch and meticulous decorations designed ad hoc by the expert wedding planner, Lucia Leone.
The menu was chosen in collaboration with the Executive Chef Roberto Balgisi for an intimate wedding (by choice) with 30 guests and the photo shooting was took by the "UMDC Unmondodicolori" from Alassio.
Several reasons brought the couple to choose the excellence of the Italian hotel industry in Riviera delle Palme: the private beach, the atmosphere, the historical building and the tailored and attentive service. It was such a successful experience that made the spouses promise to come back again as guests with friends and loved ones.
I conclude with these three words "Excitement", "emotional involvement", "unconditional love'' which describe how the spouses described the way they felt during the ceremony at the Grand Hotel, where everything happened just how they imagined